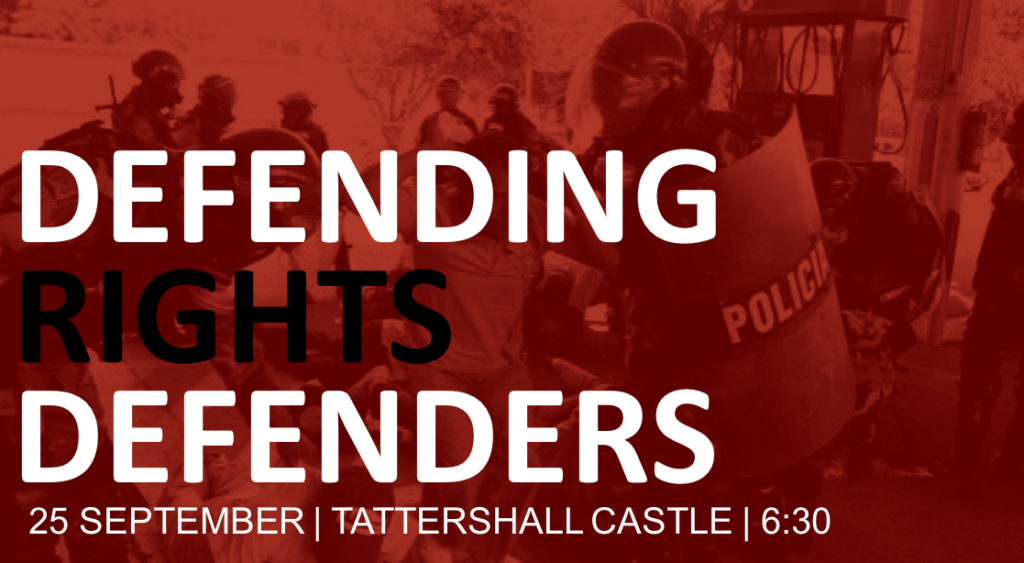 In the northern triangle of Central America (El Salvador, Guatemala and Honduras) life for human rights, land rights and environmental rights defenders is particularly dangerous. Research by Global Witness reveals that since the 2009 military coup d'état in Honduras, 123 land and environmental activists have been murdered in that country with countless others threatened, attacked or imprisoned. The situation for rights defenders in El Salvador and Guatemala can hardly be described as any better than for Hondurans.
Most of the violence and threats of violence arise from so-called 'developments' of activities such as mining, hydroelectricity generation, logging, agribusiness plantations and tourist resorts. They involve land grabs and resource extraction and exploitation, especially by transnational corporations and national businesses, and affect particularly indigenous peoples and rural communities.
ENCA's 'Defending Rights Defenders' event on September 25th 2017 in Tattershall Castle, London will feature short talks from Martin Mowforth, author of The Violence of Development. Doug Specht, Director of Voz. Adam Lunn from Peace Brigades International and a speaker from the Guatemala Solidarity Network.
Talks will be followed by live music by the Pengeista samba-reggae drum band and the opportunity to continue the discussions over a drink in the bar.