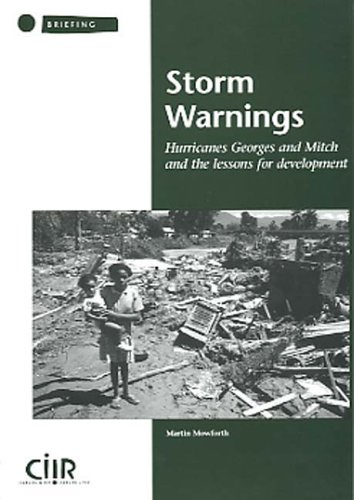 By Martin Mowforth
Published by the Catholic Institute for International Relations (now Progressio), 2001
In late 1998 Hurricanes Georges and Mitch struck the Caribbean and Central America causing massive loss of life and wreaking chaos in agriculture, housing and infrastructure.
This book describes the impact of the two disasters and the responses of governments, civil organisations and local communities. It asks why some communities are more vulnerable than others to so-called natural disasters, and examines the capacity of civil society organisations to bring about change through technical assistance and advocacy for policy change.
Its focus is a detailed examination of grassroots development programmes supported by the CIIR in Honduras, Nicaragua, El Salvador and the Dominican Republic. It combines published material with accounts from people affected by the hurricanes. It draws lessons on the importance of agro-ecology, people's participation in decision-making and support for women's organisations. The case studies underline the need to avoid creating a culture of dependency and the pitfalls of making rigid distinctions between emergency aid and development. It also warns that the voluntary sector cannot fill the void left by the rolling back of the state in preparing for and responding to disasters.
ISBN 1852872322